Hello and welcome to the Salopian Books website.
Based in the heart of Shropshire, Salopian Books is a specialist online used and second-hand bookshop with a wide selection of books available.
Please feel free to search our used and second-hand books by using the search engine in the top left corner or, if you prefer, use the drop down menu to browse through our books in a specific category.
Happy hunting ...
Salopian Books is a Member of the IOBA (Independent Online Booksellers Association) - www.ioba.org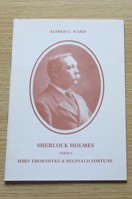 Sherlock Holmes versus John Thorndyke and Reginald Fortune.
By: Ward, Alfred C:
Paperback booklet in good condition. Limited edition - number 176 out of 250. Facsimile reprint of a 1924 essay. Some general wear and browning to covers. Staples rusting. Pages lightly tanned. 8vo. c18pp.
Only
£8.00